If you have so much as a passing interest in golf, or even sports, you know about LIV Golf. The Saudi backed PGA competitor has been dissected ad nauseum, so I'm going to save you the background (summary: it sucks) and cut to the chase.
LIV has had a lot of bad ideas. They employed Greg Norman. They fractured the golf world. They paid Chase Koepka to play non-competitive golf. They also had a good one: Teams. Team golf is a format that frankly delivers excitement far more consistently than 72 holes of stroke play. Even if the teams are just assigned (LIV style) and tracked across stroke play tournaments, it creates another angle of interest that will likely be LIV's best asset going forward (if they can get out of their own way).
Since greatness borrows and genius steals (that's a line I stole from someone), I see no reason why the tour wouldn't simply undercut LIV and create their own team structures (which is roughly what the PGL wants to do). I even have a way to do it, and that, folks, is why we're here.
Now, there are two types of lawyers in this world: there are those who will say "but the tour can't actually do that because 501(c)(3) and it's not that simple blah blah blah," and then there are lawyers like myself whose actual job has nothing to do with this, thereby opening myself up to drop fire internet content and just do the damn thing myself.
(Okay, admittedly this is more of a 'what if the PGA was split up into teams' thought exercise than something with a practical application, but just to be safe consider this to be a formal patent application and if the entities discussed herein want to pay me to set this up I can be contacted through this website)
Here's the thing: golfers already have teams. It's really just a matter of identifying them and keeping score. More on that later. But first:
The Schedule
In the past, because of the disparate schedule, you could only do a coherent schedule for any sort of team competition using the majors and the Players. Even with the elevated events, enough guys skipped them to make it seem clunky. You could try to use every event, but as the FedEx Cup has proven, that kinda sucks too. This year, though for maybe the first time, with the "top players" vowing to play certain tournaments, it's pretty simple to identify the "Designated Events" (which includes the majors) as the schedule for our team competition.
The Players:
The headline has consistently been that the "top players" will be the ones who are playing in all 17 of the "designated events" (with the ability to skip 1). The enforcement mechanism (which in turn defines the "top players") is the doling out of PIP money which means that the 20 guys who were in the PIP last year are the ones who need to show up at the Greater Hartford Open and 16 others to compete for 20 mil. Those guys are: Tiger Woods, Rory McIroy, Jordan Spieth, Justin Thomas, John Rahm, Scottie Scheffler, Xander Schauffele, Matthew Fitzpatrick, Zalatoris, Big Tone Finau, Colin Morikawa, Shane Lowry, Kevin Kisner, Max Homa, Billy Horschel, Rick Fowler, Adam Scott, Jason Day, Patty Cantlay and Victor Hovland. Hideki, Cam Young and Sam Burns would have been in the PIP money but weren't eligible for reasons I don't know or care to look up, so they're in.
That leaves us with 23 guys, but really 22 because I have a better chance of playing in 16 PGA Tour events this year than Cat does. Since apparently the PIP formula is unaware of the existence of Korea, Sungjae Im, Si Woo Kim, KH Lee and Tom Kim are obvious adds.
At that point I decided 8 teams of 4 made the most sense. The fair thing to do was to go to the World Rankings, so naturally I hand picked the next 6 guys to round out the field because frankly some of the top 30 OWGR guys just aren't that interesting to me (The picks -there were actually 9 for reasons discussed below- all have a certain status and frankly fit in to a team well). They are: Keegan Bradley, Tommy Fleetwood, Corey Connors, Sepp Straka, Tyrell Hatton, Russell Knox/Andrew Putnam/Matt NeSmith (I know but trust me).
I'll admit it may end up working better limiting it to the PIP guys (Note: all of the inclusions will have the status necessary to get into the team events and I think it's more likely than not that with the astronomical purses, guys will play), but this allows for a much fuller league, and to logically round out the teams, which we will get to now.
The Teams:
As alluded to before, these guys, if you really think about it, already have teams. How do we know which team Mookie Betts plays for? He has an "LA" on his forehead. Joe Burrow wears tiger stripes on his. So how do we know which team Rory McIlroy and Scottie Scheffler are on?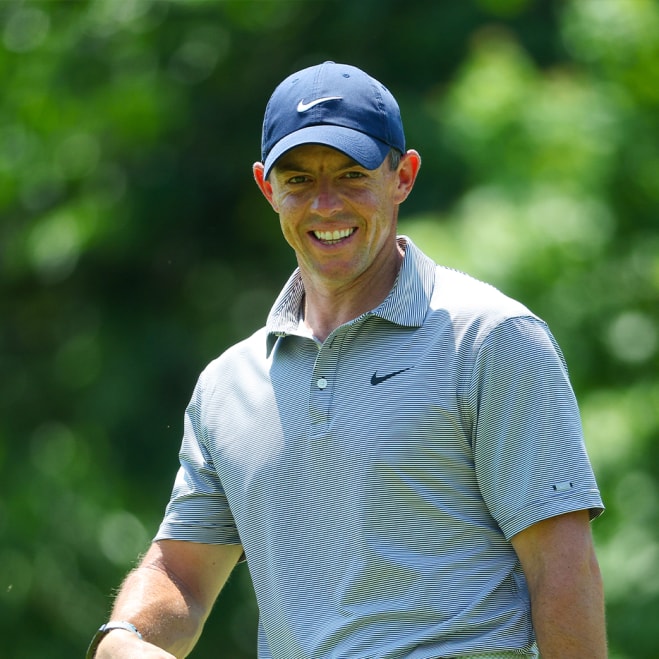 Seems pretty easy to me (or if you prefer the F1 analogy everyone is so quick to point to, you're on the team that makes your equipment). Pretty much every golfer could be said to reveal their squad with their headgear.
Obviously we don't have perfect groups of 4, but step 1 is, going down the PIP rankings (and OWGR for the add-ons) we will take the top 4 with each hat. From that list, on hats alonewe can fill out the first 4 teams:
Nike: Rory, Scottie, Finau, Jason Day
Titleist: JT, Zalatoris, Homa, Young Cam
Callaway: Rahm, Schauffele (it's on the side of his Adidas hat), Kisner, Burns
Ping: Hovland, Hatton, Bradley, Connors
At this point you might be thinking 'but some of the best players on tour don't even wear golf brands on their hats.' Your damn right. Thus:
Team EvilCorp: Fitzpatrick (Workday), Billy Ho (Velocity Global), Cantlay (Marcus by GS), Adam Scott (some Japanese conglomerate)
(I was going to call it team MegaCorp but then I would have had to include Brian Harman, all set there, so it's been branded after the megacompany from Mr. Robot instead).
You also have Team Korean Evil Corp (CJ): Sunjae, Si Woo, KH Lee and Tommy Kim
Then you have Srixon, who has 3 hat guys:
Hideki, Straka, Lowry
For the 4th, there really isn't an obvious inclusion (a guy you can count on qualifying for 4 majors, let's say) and because this is more fun if each team has as many guys playing as possible, I'm allowing Srixon to use Russel Knox, Matt NeSmith and Andrew Putnam as alternates. The highest OWGR of the 3 (currently Putnam) will count for their score.
Somewhat shockingly, Taylor Made's inability to make a hat that anyone wants to wear (and a couple of LIV defections) have made theirs the toughest team to fill out, with Nike scooping up Rory and Scheffler. Of the pool we came up with, only Morikawa wears a TM hat. But, Rickie and Fleetwood being notorious TM guys, 3/4 of that team was simple enough. Luckily enough, they were awarded a compensatory draft pick for the loss of DJ and Matt Wolff, with whom they selected the the truest free agent of the bunch: Jordan Spieth (also obviously there isn't a team Under Armor, it would be him and…idk Steph Curry, and the Titleist roster is too deep to put a non-representer on there, so I had to shoehorn Spieth in somewhere, and making team Taylor Made a little stronger seems appropriate).
So, to recap:
| | | | | | | | |
| --- | --- | --- | --- | --- | --- | --- | --- |
| Nike | Callaway | Ping | Titleist | Srixon/Ping | EvilCorp | CJ (Korean EvilCorp) | Taylor Made |
| Rory | Rahm | Hovland | Thomas | Hideki | Fitzpatrick | Kim | Morikawa |
| Scottie | Xander | Hatton | Zalatoris | Lowry | Billy Ho | Im | Fleetwood |
| Finau | Kisner | Bradley | Homa | Sepp Straka | Cantlay | KH Lee | Fowler |
| Day | Burns | Connors | Young | Knox/Putnam/NeSmith | Scott | Si Woo | Spieth |
Next Week: We bring this home with The Scoring